Category: Uncategorized
My latest Worldbuilding Book is out! This one is a Checkup to see how your world and documentation is doing! A good buy if you're pretty good on the details, but want to check your big picture. Think of it as a good way to stay on an even keel.
As always, if you want to review let me know . . .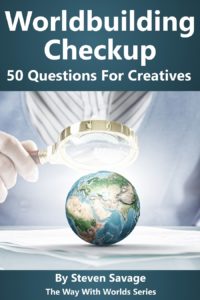 Lost in Translation has examined the passage of time on technology and how that affects adaptations and remakes. However, technology isn't the only thing to change over time. Society and culture aren't static. What was one scandalous may now be commonplace. What was once de rigeur is now out of fashion. What was once common practice is now forbidden by regulations.
Older contemporary works are seen as period pieces today. The social mores of Jane Eyre have long given way, so adaptations place it during its time. Prohibition limits The Great Gatsby to the 1920s. Changing the setting of either requires work to make the stories believable in the new era. Today's world isn't as class-based as the Victorian era and the excesses of the Twenties fall flat in today's borderline recession.
Some works don't have that nice delineation in their era. Their themes are considered timeless. But the details have begun to date them. Adaptations that don't take into account the changes are going to fall flat. Take Catcher in the Rye, a novel commonly assigned in high school English classes. The novel was written in the Forties and reflected education and teenage isolation of the time. While teenage worries of finding a place in the world is still a concern, the details of the novel date the work. Today, Holden wouldn't have flunked out of four schools; at some point, his learning disability would have been diagnosed long before the story began. He wouldn't have been able to leave school without permission without an Amber alert being issued. And there is no way he could have walked into a bar to order any alcohol without ID; bars risk losing their license and both the establishment and the bartender risk large fines. While the book appears to be contemporary, it isn't, and any adaptation, assuming the Salinger estate allows one, needs to be able to adjust for these changes.
It's not necessary to go back that far. Even works from the Eighties needs to adjust. The 2006 film adaptation of Miami Vice had to account for how much the War on Drugs had changed since the TV series began airing in 1984. The police have become far more militarized, with military-surplus gear, in the intervening time. And not all changes are obvious. Subtle changes have happened over the past few decades.
Contemporary novels aren't the only works affected. Science fiction has always been about the issues of the time the works were written. Let's take two episodes from the original Star Trek, "Let That Be Your Final Battlefield" and "Day of the Dove". With "Let That Be Your Battlefield", the message was that discriminating because of skin colour was destructive, as the last two survivors from a planet where the only difference between peoples was whether they were black on the left side or the right side. Today, while the message is still needed, the approach would be less of a sledgehammer, like in Star Trek: Deep Space Nine's "Far Beyond the Stars" which showed how discrimination hurt people. The message of "Day of the Dove" was that it is possible for foes to set aside differences and come to peace. In the original Trek, the Klingons represented the Soviet Union while the Federation acted as a stand-in for the US at a time when the Cold War was in full force and almost turned hot after the Bay of Pigs and the Cuban Missile Crisis. Today, the Cold War is in the past and, for the most part, the threat of nuclear annihilation has been dropping since the Eighties.
A quick fast forward to 1978 to the original Battlestar Galactica provides another example. At the time, women were beginning to try to break into the combat arms of various military services. The first American woman to be a combat pilot was Jeannie Leavitt in 1993. In the episode "The Lost Planet of the Gods", to replenish the losses in shuttle pilots during the evacuation of both the Twelve Colonies and Carillon, the Galactica opened flight training to all, including women. In the episode, thanks to a disease picked up on a planet, the Galactica's fighter corps was down to just Apollo and Starbuck, forcing the new shuttle pilots to upgrade their skills to fly Vipers, the starfighters. On a mission to escort a medical shuttle to the planet to find a cure for the disease, Apollo and Starbuck lead the new pilots, but each needs to break off, one to check the planet for a safe landing zone, the other to check on a Cylon fighter trailing the squadron. When Starbuck leaves, he places Lieutenant Deitra, played by Sheila DeWindt, a black woman, in charge. Deidra gets four on-screen Cylon kills over the two-part episode and returns in a later episode. Today, though, the idea of not having women in any combat arms, especially in an advanced society, is considered backwards, and the Battlestar Galactica reboot showed women, including Kara Thrace and Sharon Valerii, as pilots with no fanfare about their gender.
Even today's works will be affected in the future. As a wise green Muppet once said, "Always in motion is the future". Most works will be based on current culture and issues. Creators can try to predict, but the most surprising thing about these predictions is that there is a success rate. What speculative fiction can do is explore the potential issues, from treatment of artificial intelligences to the problems of extraterrestrial colonization, and get people to think about them. The idea of firsts – first man in space, first woman to become a fighter pilot, first black man to command a mission on the International Space Station – will fall eventually as the firsts are achieved, yet today, they are important to track.
Culture is changing. The only constant is change. Adaptations, including remakes and reboots, will have to either keep the original work in its original time or make the effort to adjust the work to reflect the changes. Both approaches have challenges, and it is possible that an original cannot be easily updated.
Apologies. Unfortunately, an emergency came up that prevented getting a post ready for today. Lost in Translation will return next week.
Yes I've got my first Way With Worlds Minibook out! This one is on sex and worldbuilding, where we explore the biology and sociology vital to a believable setting – and so often forgotten!
I'm going to be doing a series of these, each 99 cents, over the next few months.  The idea is to do something parallel to my larger books, and focus on intense coaching on specific subjects – but without giving you something overwhelming.  Each book can be read in a few hours and you can get back to writing!
Got a bit of bad news – Disqus has altered how comments work, which is including ads.  This required me to tweak assorted settings to get it to work right, and it may be creating other problems including formatting in mobile, load, and reference/search.  So I've had to take them down temporarily while I sort this out.  I think they'll be down one to two weeks while I test solutions and check results – things are pretty busy right now.
Sorry for the inconvenience!
You may have noticed some ads in the comment sections – a change from my provider.  I'm working to find the best settings (preferably "off") for them.
Apologies, but no post today.  I have been debating on doing fan-made adaptations, so expect a column about that in the coming month.  I'll also remind everyone that Lost in Translation now has a Facebook page.
Marvel is riding high with the live action movie adaptations of its books.  This wasn't always the case.  The first Marvel comic to be adapted for the big screen laid an egg.  However, Marvel had a better record on television, with The Incredible Hulk lasting from 1977 to 1982.  The success of Hulk brought the character into mainstream attention, with the series having an influence on the character's movie entry in Marvel's Avengers Initiative.  That same success led to the first authorized Captain America movie*.
Captain America was a 1979 TV movie starring Reb Brown, known for his roles in Yor and Space Mutiny, as Steve Rogers.  Steve is an former Marine turned drifter artist, hoping to travel along the California coast line in his van.  He receives a telegram from Simon, played by Len Birman, who wants to talk to Steve about his father's research.  The Full Latent Ability Gain, or FLAG, is a serum that can maximize the human body's potential.  FLAG has a drawback; the serum causes cells to degenerate faster, leading to death.  Steve declines the offer to test the FLAG serum on himself. and heads out.
Fate, however, brings him back.  Steve finds his friend, Jeff Hayden, injured in his own home, attacked by a thug sent by Harley, played by Lance LeGault, on the orders of Brackett, played by Steve Forestt.  Brackett wants a filmstrip** of Hayden's work to use to complete a neutron bomb and wants Steve out of the way.  Harley lures Steve with the knowledge of who killed Jeff.  Steve shows up at the out of the way location at night, where Harley demands the filmstrip.  In the ensuing chase, Steve is forced off the road and over a cliff on his motorcycle.
To save Steve`s life, he is given the FLAG serum while in ER.  Unlike the previous test subjects, there is no cell rejection; the serum works.  Steve's healing accelerates under the influence of the serum, but he has no desire to find out what else FLAG has done for him.  He doesn't get to stay ignorant; Harley kidnaps him from the hotel, taking him to a meat plant.  Steve breaks away from his captors and plays cat-and-mouse among the sides of beef.  His newfound strength lets him take out Harley and his men, including through the use of a thrown slab of beef, the only object thrown in a fight in the movie.
Steve talks with Simon, who mentions the elder Roger's nickname as a crusading lawyer, Captain America.  Simon offers a job as a special agent, which Steve accepts.  Simon arranges for extra equipment, updating Steve's van, adding a new motorcycle with jet assist, and a bulletproof shield that can be thrown as a deadly weapon.  While he tests out the new motorcycle, Brackett sends men to chase him down by helicopter.  Thanks to the new motorcycle and FLAG-enhanced abilities, Steve manages to turn the tables.
Brackett is busy working on Hayden's daughter Tina, using her to figure out where the filmstrip was hidden.  He pieces together what Hayden meant when mentioning his wife with his final breaths and finds the filmstrip.  Brackett takes Tina hostage and the filmstrip to his weapons expert, who can finish the neutron bomb with the information on the strip.  The bomb gets loaded on to a truck and shipped out.  However, Steve's enhanced hearing picks up a clue on where Tina could be, leading to an oil refinery owned by Brackett.
Simon provides one last present to Steve, a costume to help hide his identity as Captain America.  Cap heads to the refinery to rescue Tina and stop Brackett.  He sneaks in but is spotted.  The alarm sounds, but Steve's enhanced abilities are no match for the guards.  Tina is rescued, but the neutron bomb plot is revealed.  With some research, the target is located.  Steve and Simon fly off to stop Brackett.
A second made-for-TV movie, /Captain America II: Death Too Soon/, followed, with Reb Brown back as Cap and Christopher Lee as the terrorist, Miguel.  Miguel holds a town in check with a virus that causes rapid aging.  Unless paid or unless Cap can stop him, Miguel plans to gas a city and withhold the antidote, letting the city die of old age in hours.
The TV movies take liberties with Cap's background.  Captain America: The First Avenger shows the origins well, with Steve Rogers volunteering for a super soldier program and gaining super abilities as a result, and only being frozen after a fight against the Red Skull.  In the comics, Cap is found by Namor, is thawed, and becomes one of the founders of the Avengers.  That is a lot of backstory to fit into a two-hour TV movie, so the change to an former Marine makes some sense.  Steve became an artist once thawed out, so that part is accurate.  In 1972, thanks to the Watergate scandal, Steve gives up the role of Cap out of disgust with the government and becomes Nomad, a wandering hero.  That storyline, though, only lasted a year.  The change to California is explained by keeping costs down; the studio was based in the state.
In the Seventies, the main names when it comes to live-action superheroes were Wonder Woman, The Incredible Hulk, The Six Million Dollar Man, and The Bionic Woman, all characters with similar power sets – super strength and endurance, all easily portrayed with practical effects, camera angles, and sound effects.  The cost of energy blasts in post could be prohibitive, as seen with the original Battlestar Galactica, but jumping higher than normal uses the simple camera trick of running the film of someone jumping down in reverse.  A drifting hero working for the government covers all the TV series mentioned; it's a concept audiences should be familiar with and works for Captain America.
Reb Brown, while not the best actor around, is earnest as Captain America and, just as important in a superhero series, has the physique needed.  The earnestness helps when considering that Cap was often considered a Boy Scout in the comics of the time.  The music by Mike Post and Pete Carpenter is very Seventies with brassy horns and doesn't quite survive the passage of time.  The concept, a hero working for a secret organization, is common, from the OSI in The Six Million Dollar Man and The Bionic Woman to the Foundation for Law and Government in the later series, Knight Rider.
Captain America and its sequel are very much Seventies-era made-for-TV movies, suffering from budget limitations.  They take liberties with Cap's background, but keep close to the characterization of the time.  The needs of gaining a television audience forced some changes. The movies are definitely curiosities, and make a valiant effort, but fall short as adaptations.
* The Turkish film 3 Dev Adam, released in 1973, featured Captain America fighting Spider-Man and was not authorized by Marvel.
** A filmstrip is a series of still photos placed on a strip of photographic film as a means of presentation, much like an early version of a PowerPoint presentation, often with an accompanying recording on cassette, vinyl, or reel-to-reel with signals to let the viewer know when to change the slide.
Because of other happenings in my life, Lost in Translation will not appear this week.  I should be able to give proper attention to the review on tap when Lost in Translation returns.
In the meantime, Lost in Translation can now be found on Facebook.
(This column is posted at www.StevenSavage.com, www.SeventhSanctum.com, and Steve's Tumblr)
I'm looking forward to No Man's Sky – which is apparent if you see my Twitter, Facebook, blogs, or just talk to me. The procedural space adventure fascinates me as it pushes all my buttons – and of course I'm big on procedural generation, so of course I'm following it.
Acknowledging this, this is fair warning you're gonna see some No Man's Sky posts. It's relevant to my interests, to what I do here, so I hope they'e informative and interesting.
As I've scanned internet posts and Steam communities, one useful insight I've seen is that the game may face an issue of being "a mile wide and an inch deep." A game, in short, of great breadth but not a lot of depth. I think this concern is worth addressing, as it reveals some truths about games, procedural games, and their development.
The concern is one I feel is legitimate for some in the audience. NMS' videos make it clear that the game presents an enormous Sandbox galaxy, with straightforward systems of crafting, exploring, fighting, trading, and reputation-building. This may be enough for many (such as myself), and certainly enough for a broad, wide adventure – but it may not be enough for everyone attracted to the premise.
The "mile wide" may stand for people, but for some people the game may not have the depth they want – or the kind of depth they want. You won't be building structures, negotiating trade agreements, or going on elaborate story quests – hallmarks of other games and science fiction. For some NMS will have everything they want – for others it'll be a beautiful galaxy that might not have what they want, or enough of it.
I analyze what I see from NMS's designers and ads, because watching this dream game evolve has taught me a lot about games and procedural generation. The concern about NMS not having the depth some one made me ask, simply, what if the game tried to add more?
It's not hard to imagine adding some more classic science fiction elements from the novels that inspired it. Take the simple alien language engine and add some negotiation and trade deals. Allow some encounters to spawn some quests – like smuggling something thorough a blockade. Maybe even a bit of building or improving buildings. Just a bit more maybe . . .
. . . and this is where it gets complicated.
First, even if there is a desire to add "more" we're talking a game with a setting the size of a galaxy, filled with procedural content so large the devs had to make in-game probes to study the worlds. Any addition of new features could produce development nightmares, adding them onto an already careully developed and tweaked engine.
Second, the developers would have to choose what new features to add to their already polished set. What would sell? What do people want? S much work is procedural, so much unknown, can the devs predict what people will want? Will they be able to balance demands? They can't be sure how people will react to the game – potential pirates may become explorers, traders decide to cut out the middlemen and become pirates, and explorers may drop their archiving duties to just swap rare minerals for cash. Throwing in more features requires careful consideration of how the audience will reacts.
Third, if the new items could be added, then comes the question of testing. Adding new features onto procedural content produce a new nightmare of testing it and making sure nothing else broke and all the pieces work together. That "mile wide" part means a lot more testing work when you try to make that "inch" a bit deeper.
Fourth and finally the extreme "width" of the game means that, with too much "depth" the game might become a muddle of choices and options. NMS may give you the stars, but its focus on being a kind of space exploration/survival game provides useful boundaries for play. Throw in a few more features and a game that already provides little direction could end up a muddle.
Those concerned about depth have a legitimate concern – for some of the audience (again, I think most people buying NMS who are informed will know what they're getting). But I think the creators have a sweet spot of features for this grand enterprise, and changing beyond that is fraught with dangr.
Is it the right choice? Well, we find out in June 2016 . . .
– Steve