Welcome To The Codex
---
It's taking a little longer to get the next review completed.  Lost in Translation will return next Saturday.
---
Adaptations will happen. It`s the nature of Hollywood. Audiences aren't fleeing away yet, so there's no reason not to adapt. However, if all that is done is adaptations, original sources get scarce. The easy ones are on the verge of being over done. A couple of news articles this past week show that there are studios looking beyond just remakes.
First, Amazon picked up Tales from the Loop to make an eight episode series. Tales from the Loop is a collection of paintings by Simon Stålenhag showing an alternate Sweden of the Eighties, one where the landscape includes kids and unusual machines and buildings, the latter two being part of a particle accelerator program. The original paintings were gathered into one book, which then spawned a tabletop RPG of the same name. The Kickstarter raised enough money to have an American Loop project added, resulting in more paintings by Stålenhag. It looks like Amazon is trying to cash in on Netflix's Stranger Things, but the collection of paintings was done prior to that series.
The second announcement uses a more mainstream source. Lively McCabe Entertainment and Primary Wave licensed Plain White T's "Hey There, Delilah" as the basis for a romantic dramedy to shop around to networks. The song is a hit and has been featured on several TV series since its first release in 2006. Music has been used before as a source, but typically for either episodes of TV series or as a movie. "Hey There, Delilah" does have characters – Delilah, a university student, and an unnamed singer-songwriter, using the song to stay close to her while on the otherside of the country. That might be enough to at least start the series.
Notably, neither announcement is for a movie. Both are TV series. Television, though, isn't the wasteland it used to be. The competition for audiences goes beyond the three-channel, lowest common denominator and now includes specialty channels and streaming. The goal now is to attract an audience that has become finicky in what it wants. With Tales from the Loop, the short run will keep the series focused on the mixture of mundane and mysterious. With "Hey There Delilah", audiences are familiar with the idea of romantic dramedies already; the song becomes the hook.
Are these two announcements the start of a new trend? That depends on their success. Television is tough these days. If Amazon can reproduce the immersive quality of Stålenhag's paintings, Loop should raise a following. The dramedy of "Hey There, Delilah" may have it rougher, but if the main characters are compelling, the series should have a few good seasons.
---
The issue of a translations has come up before, most notably in the analysis of The Girl With the Dragon Tattoo. When examining a work originally created in a foreign language, the accuracy of translation comes up. Today, a look at how language barriers go into adding complexity to adapting.
Translations aren't cut-and-dried. Languages have quirks, some of which might not translate to another. Add in cultural differences and getting the idea presented in a paragraph or even just a sentence. Idioms grow from language and culture and may not have a proper translation. Expletives are an extreme example; the movie Bon Cop, Bad Cop shows the difference between swearing in English, which tends to use bodily functions, and swearing in Quebecois French, which tends to use elements of the Catholic Church. In a more family friendly vein, puns – plays on words – fall apart between languages. A French pun based on how close cheval (horse) and cheveux (hair) can't be repeated in English. Going the other way, the werewolf/where wolf pun from Young Frankenstein can't be translated well into French; werewolf translates to loup garou while where wolf becomes où est le loup.
It is possible to work around the limitations. The various English Asterix comics managed to keep the gist of most of the puns without accurately translating the names. Obelix's dog has a near perfect replacement name despite not being a perfect translation; Idéfix, after idée fixe or a fixed idea, became Dogmatix, after dogmatic, which can involve fixed ideas, and adds in a quick extra pun. The druid, Panoramix, after the wide view parnorama, became Getafix, since everyone went to him for magic potions. The blacksmith, Cétautomatix, from c'est automatique or "it's automatic" became Fulliautomatix, "fully automatic". The bard, Assurancetourix, after assurance tous risques, or "comprehensive insurance", which what he needs when he tries singing, becase Cacofonix, after cacophony, which accurately describes his singing. The goal in the translations was to maintain, if not the exact pun, a pun based on the character. The characters haven't changed, just the names only because puns are very much language based.
That still leaves the nature of the language. English doesn't really have an equivalent to either tutoyer or vouvoyer, using the informal or formal you, respectively. Likewise, the levels if formality in Japanese honourifics don't always translate well, leaving a character sounding stiffly more formal than intended. A blind-idiot translation, where words are translated without a sense of context, creates a mess. The translator needs to understand the originating culture; fortunately, most do. At the same time, the result also depends on the translator's own culture, and, sometimes, this results in a more formal approach even when the original wasn't.
The above problem occurs in older works. Gaston Leroux's The Phantom of the Opera, the source of several movies and a blockbuster stage musical, was originally written in French. The English translation is very formal, having been done in 1911, when most novels were written in a more formal manner than today.
What this means for adaptations of translated works is that the goal may not be to preserve the language but the intent. Language changes over time. English is constantly mugging other languages for new words. Spoken language varies from written. Today, audiences expect the dialogue in a film to reflect how English is spoken now. Studios typically aren't going to release a work that is inaccessible to the general audience. Yet, older works, no matter the original language, bring expectations. King Henry VIII won't sound like a Bronx storekeeper except for comedic purposes; the audience won't put up with the change.
In short, a foreign language work adds an extra degree of complexity to adapting it. Unless cultural biases are taken into account, subtleties could be lost, and the adaptation will feel flat.
---
(This column is posted at www.StevenSavage.com and Steve's Tumblr.  Find out more at my newsletter.)
And yet another book is out!  In this case it's my Superheroes and Worldbuilding book.  I'm continuing my mini-worldbuilding books with one on Superheroes (and it mostly focuses specifically on heroes – villains may be forthcoming).  So if you're thinking about a setting with capes and heroics, give it a check!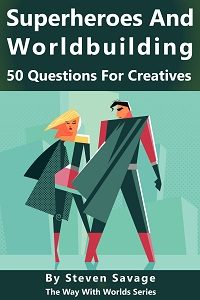 -Steven Savage
---
(This column is posted at www.StevenSavage.com and Steve's Tumblr.  Find out more at my newsletter.)
OK I've hinted at it or talked about it but it's here – my book on Agile Creativity!
This is the result of experimentation, research, discussions, and blogging – a guide to how to use Agile in creative efforts. However this isn't about specific methods – this is about mindset.
Do you really understand value?  How can you get more done by doing less?  Are you supporting yourself so things happen – not trying to force them to happen?
I dive into the Agile Software Manifesto and the Principles behind it – and then focus on how to take these ideas and use them for art, writing, and more!  Let's get Agile, get Creative – and get more done with less stress!
-Steven Savage
---
Remakes happen. The known element is popular with audiences, for all that people moan about the lack of original movies. Lost in Translation has looked at the problems different sources have when being translated to film, but remaking a movie has its own issues. For most genres, it's not a problem. People will enjoy the same story over and over, whatever the format. For horror and mystery, there's a problem.
Horror and mystery rely on tension and the unknown. In horror, it's a question of when something happens, with setting, lighting, and music the only cues. Mysteries rely on solving the puzzle, following clues to the end. In both genres, knowing the end result takes away from the suspense. The remake of The Evil Dead took the same situation – a cabin in the middle of the woods and a group of young adults – and, while having similar beats to the original, added its own twists so that audiences couldn't rely on their knowledge of the older movie.
Before the Eighties, most older films could be found either in repertory theatres or on television, either late night or weekend mornings. With the typical time between original movie and a remake being about thirty years or so, a new generation of audience could grow up without having seen the source. The Eighties, though, were when the VCR took off with hardware and available movies coming down in cost to be practical for the home. Specialty cable stations added to the availability of older movies. Today, with DVDs and streaming, if a film exists, it can usually be found somewhere on demand. A movie from the Eighties, ie, thirty years ago, is still available to the next generation of audience. The twists and turns that made an original movie suspenseful now makes a remake predictable. Yet, people want the familiar. Directors of remakes are in a tough spot. The audience wants the remake to be faithful, but not too faithful.
Slasher films and monster movies have an out. Audiences are there to see the star – the slasher or the monster, different sides of the same coin – do what they do best, kill people. Few people watch a Godzilla movie to cheer the Japanese Self-Defense Force; they're there to see Godzilla stomp through Tokyo. Toho has rebooted the series, but hasn't really remade the original.
Another issue with horror remakes is that horror films tend to reflect the fears of the time they are made. Going back to Godzilla, the original film was made in response to the growing fears of atomic weapons, made in a country that had the first and only two atomic bombs dropped on it. Other fears that have shown up include machines turning on humanity (Maximum Overdrive, The Terminator), humanity's interference with nature (The Thing, Sharktopus), loss of identity (The Fly, Star Trek: The Next Generation's Borg), the faceless other (zombie films), and the seductive other (vampire movies). While some of those fears are part of being human, others change as understanding is gained and political winds blow.
Mysteries may not rely on the fear of the day, but they do rely on the puzzle. With information at the audience's fingertips today, it'd be easy to do a quick search to find out whodunit. Adapting a mystery from literature doesn't quite have the same problem; the audience is there to see a story they enjoyed on screen, not solve the puzzle. Remaking a mystery, though, needs to create new twists to keep the audience on its toes. There are exceptions, such as Columbo where the draw is to see how the detective solves the murder, but most mysteries rely on not knowing who the killer is until the reveal. Even the live action Scooby-Doo, while still using the tropes of the cartoon including having the monster really be someone the kids have met, created its own plot instead of using one of the animated episodes.
There are ways around the problem. The first is to make the new movie a reboot, picking up where the previous film left off. The TV series Ash vs Evil Dead is a continuation of the original The Evil Dead with Ash getting into more trouble. It's easier with slasher films and monster movies; the star is the attraction, so even with new casting, as long as the main character acts in the expected way, the audience is satisfied. Mysteries may have a harder time, depending on how much the original actor was tied to the character. Peter Falk made Columbo his character; it'll be some time before an audience will accept a newcomer to the role. However, other characters, like Sherlock Holmes, have been portrayed by a large number of different actors.
The key in any remake is to provide the audience what they expect. With horror, the expectation is suspense and scares; with mysteries, it's a whodunit. The characters in the remake should behave like they did in the original, even if the plot has changed. Shaggy shouldn't sound like an Oxford scholar and Ash Williams shouldn't be the luckiest man alive. Get these details correct, and the audience won't mind changes to the plot.
---
From Russia With Love
Bond: Sean Connery
Release Date: 1963
Previous Film: Dr. No (1962)
Next Film: Goldfinger (1964)
Original Story: From Russia With Love
Publication Date: 1957
Previous Story: Diamonds Are Forever
Next Story: Dr. No
Villain: Rosa Klebb (Lotte Lenya)
Heavy: Donovan "Red" Grant (Robert Shaw)
Bond Girls: Tatiana Romanova (Daniela Bianchi), Sylvia Trench (Eunice Gayson)
Other Notable Characters: Kerim Bey (Pedro Armendáriz), Major Boothroyd/Q (Desmond Llewelyn), Kronsteen (Vladek Sheybal), M (Bernard Lee), Moneypenny (Lois Maxwell)
Gadgets: Watch garrotte, used by Grant. Briefcase with survival rifle, hidden knife, hidden currency, hidden ammunition, and tear gas cannister disguised as a tin of talcum powder, used by 007. Bug detector, used by 007.
Opening Credits: "From Russia With Love", written by Lionel Bart and John Barry
Closing Credits: "From Russia With Love", written by Lionel Bart, performed by Matt Munro.
Plot of Original: SMERSH tries to kill 007 with an eye on embarrassing the British Secret Service.
Plot of Film: SPECTRE tries to steal a Soviet decryption machine using 007 and a Soviet cypher clerk while still embarrassing 007 and British intelligence..
Differences:
The biggest change is who the opposition is. The novel had SMERSH acting against 007. The studio changed that to SPECTRE, keeping SMERSH involved but as one of the agencies being played by Blofeld's organization. All of the Soviet senior staff mentioned in the novel – General Grubozaboyaschikov, General Vozdvishensky, Colonel Kikitin, and General Slavin – are gone, replaced by Blofeld. Rosa Klebb is now a defector from SMERSH to SPECTRE, and Grant is an assassin under her command.
The movie also rearranges and collapses the first third of the novel. A briefing by the head of SMERSH works in a book but not in a film. Audiences know how meetings go and are watching the movie to escape them. Kronsteen still gets his chess championship, but it's now at the international level, not just for supremacy in Moscow. The scene also changes the focus, by showing Kronsteen's planning ability by defeating the Canadian MacAdams instead him having to worry about not leaving the chess match against the Russian Markhov because of his summons.
Bond's first appearance also gets changed. In the novel, he is first seen in his apartment, reminising, the only woman around being his housekeeper, May. In the movie, Bond is enjoying an afternoon off with Sylvia Trench, who he met in Dr. No, something not possible in the film continuity since that was the first book adapted.
The movie follows the novel more or less as wrtitten with minor changes. Darko Kerem becomes Ali Kerem Bey, for example, but nothing major. Bond meets Tatiana, gets information out of her, and takes her on the Orient Express out of Turkey. On the train, Grant makes his move. That's where the movie diverges from the book. In the book, Bond's Q-branch briefcase has the hidden knife, but not the talcum powder tear gas. In the movie, Bond bluffs Grant into opening the briefcase. Not knowing the special way to get in, Grant gets a face full of tear gas, allowing Bond to act. The hidden knife does come out; Checkhov's gun comes in many forms.
The fight between Bond and Grant in the book is followed by arrival in Paris, the delivery of Tatiana, and a final appearance by Klebb, who gets one kick in at Bond before being taken away by France's Deuxième Bureau. The movie adds an escape from the train, a helicopter chase with Bond on foot and a boat chase before reaching Venice. Klebb gets her last appearance, but instead of poisoning Bond with her shoe despite her best efforts, Tatiana shoots her, ending her story.
There were minor changes because of the different format. What can be done in a book might not be allowed in a movie. In particular, the nudity in the novel, not explicit but there, gets covered up. Topless women get bras; the nude men get towels. One other change that does stand out is 007's choice of pistol. In the book, Bond has his Beretta. His movie counterpart is using his signature Walther PPK. Movie Bond received the pistol in Dr. No because his Beretta had snagged on his holster in a previous mission. In the original Dr. No novel, Bond was forced to change pistols for the same reason, except that previous mission was in From Russia With Love. It's a minor change, but thanks to the movies being in the wrong order, creates an interesting switch.
Commentary:
There are two actors making their first appearance here. First, Desmond Llewelyn appears as Major Boothroyd/Q. Major Boothroyd was a character in Dr. No, but was played by Peter Burton in that film. Llewelyn will appear in the most 007 films, his last time as Q in The World Is Not Enough, working alongside five different James Bonds in that time. Walter Gotell makes his first appearance, playing Morzeny, a SPECTRE trainer. Gotell reappears in the main line of 007 as General Gogol in The Spy Who Loved Me, and reprises the role in Moonraker, For Your Eyes Only, Octopussy, A View to a Kill, and The Living Daylights.
With the change from SMERSH to SPECTRE, Ernst Blofeld makes his first appearance, albeit without revealing him.  The white Persian cat becomes the villain's signature.  Blofeld takes over the role General Grubozaboyaschikov had, the head of the organization.  This time, the organization is a private one, beholden to no government.  SPECTRE is shown to be able to infiltrate even the highest ranks of Soviet intelligence, getting Klebb to defect.
From Russia With Love isn't quite yet the classic 007 movie. The seeds are there, though. Suave Bond, beautiful women, fast car chases, gadgets, the only missing item is the set piece at the villain's lair. The fight between the Gypsies and the Bulgars hint at what is to come in that respect.  Audiences, though, turned out for the movie, sustaining the demand for more.
---
Remakes aren't going away. Audiences will flock to an adaptation of a known work. Television is becoming more and more a source for the remake mill. If a TV series won its time slot in the ratings, it goes on lists of possible adaptations. Likewise, if a series influences how later, similar shows are made, it, too, becomes fodder for a remake.
However, television has a wrinkle that film doesn't – syndicated reruns. With theatrical releases, there seems to be a twenty-five to thirty year gap between original and remake, depending on how well the original was received. That gap is the equivalent of a generation, enough time for a new generation to be born and grow up. During this time, film technology can improve and expand, providing a new way to tell the story. Films made in the Twenties remade in the Fifties could take advantage of colour, sound, and widescreen.
Syndicated reruns means a TV series is on the air for longer than the original run, keep a show alive in its original medium for far longer than a movie can ever hope for. If a series runs long enough, the syndicated reruns can air the same day as a new episode. The length of time between original and remake gets longer. But remakes and reboots do happen. Some are long awaited; others appear to come from out of the blue.
Another wrinkle television has, especially with long-running series, is a role gets associated with the actor playing it. This happens when the series is focused on that character. Jim Rockford of The Rockford Files is tied to James Garner. Likewise, Columbo is very much Peter Falk and Quincy is Jack Klugman. It'll take time for these connections to fade.
When choosing a work to remake, it may be better to look at older series. Not from the Seventies, series from that decade are easily available and still have a large number of fans who are satisfied with DVD box sets of the show. Why not go back to the black & white days of TV. Not every series then is good for fodder. Rocky Jones, Space Ranger isn't well known under that name, though Manhunt is Space is, especially the MST3K episode riffing it, is. There is a series that turned out to be as influential on how mysteries were made as Miami Vice was to dramas, police and otherwise – Peter Gunn
Created by Blake Edwards, Peter Gunn ran for three seasons from 1958 to 1961. The first two seasons ran on NBC, the third on ABC. The series starred Craig Stevens as the well-dressed private investigator, Peter Gunn, Lola Albright as his girlfriend, Edie Hart, Herschel Bernardi as police detective Lt. Jacoby, and Hope Emerson as Mother, the owner of Mother's, a jazz club. When Emerson passed away during the second season, Minerva Urecal continued the role. The theme, written by Henry Mancini, was a hit. Mancini would win the first Album of the Year Grammy for The Music from Peter Gunn, compiling the music used in the first season. One of the musicians performing in the jazz combo for the series was a young John Williams.
Each episode of Peter Gunn ran about 25 minutes, allowing for a five minute ad break, and would start with a quick scene of the crime to be solved, often murder. Once Peter is hired, he'd dig into the case, question suspects, and get into fisticuffs, often on the wrong end. The series didn't shy from having the lead get beaten up by mobsters and other assorted thugs. The first episode, "The Kill", saw Mother's bombed in retaliation to Peter's investigating. Edwards brought film noir to television, fitting it to a half-hour slot.
There's two ways to remake the series. The obvious way, which is what Edwards did for a 1989 remake, with Peter Strauss as Gunn and Peter Jurasik as Jacoby, is to bring the show to today. When Peter Gunn came out, a jazz soundtrack was novel, a new way to present a detective story. Today, thanks to shows like Miami Vice, using popular music is a given for dramas. Jazz, while still unusual, wouldn't be as much a stand out today as it was in 1958. The idea, though, is still valid. Keep the jazz score, or change it up with something that fits today's television without necessarily using Top 40 songs. The original had a signature style of music; a remake needs to have one, too.
The other approach would be to keep Peter Gunn in the late 50s. The series would have a distinctive look just from using the fashions of the era plus the chrome of the older cars. The jazz score would help accentuate the era, with the occasional period rock song. With the advantage of hindsight and time, the show can delve into social issues of the decade, not necessarily as a morale of the week, but to highlight how different life was then for different people.
Either way, a few details are hard-coded into the series. First, Peter and Edie are a couple. There's no "will they or won't they" going on. It was obvious in the original that Peter and Edie are a loving couple, with only the morality of the time preventing the answer of "they have." The only television couple that is more up front about how much they love each other is Gomez and Morticia Addams. Second, Peter is well dressed, well coifed, wearing expensive clothes. At a time when the technology was rare and expensive, Peter had a car phone. Peter Gunn is not workaday like, say, Jim Rockford. Instead, he's suave, even when he takes a beating.
Adaptations will happen. It's the nature of the entertainment business. Studios want a return on investment, and audiences will turn up for a remake. Today, though, there is a lot of works available that still resonate with the general populace. There's no reason to remake the same TV series over and over. Delve into TV's history and there's a wealth to be mined. Peter Gunn has been considered for a remake series. Steven Spielberg was working on a pilot of a new Peter Gunn series for the 2013-2014 TV season for TNT, but the show wasn't picked up.
---
Sherlock Holmes is a character that has lasted in the imaginations of readers for well over 130 years. Created by Sir Arthur Conan Doyle in 1887, Holmes and his partner, Dr. John Watson, solved many a mystery. Each of Holmes' adventures were written from Watson's point of view, a filter through which Holmes could explain his deductions to readers. Over time, Holmes has been adapted in many ways from theatre to television, the most recent being Elementary. It was only a matter of time before he was adapted as a garden gnome.
Watson wasn't the only character that remained in the pop subconscious. Other of Doyle's creations are as well known, including Irene Adler, Sherlock's brother Mycroft, and the Napoleon of Crime, Professor Moriarty. An equal match to Holmes' intellect, Moriarty appeared in the story, "The Adventure of the Final Problem", published December 1893 in Strand Magazine and with the collection of short stories, Memoirs of Sherlock Holmes, in the same year. In it, Holmes had already deduced who the Napoleon of Crime was and had plans to arrest him and key members of his gang. Moriarty, though, worked out who was behind all his recent setbacks and promised Holmes mutual destruction if the detective continued to work against him. Holmes sees no problem with that, with a career of detective work behind him that bettered London. The chase is afoot, and Holmes and Moriarty meet again at the Reichenbach Falls in Switzerland. After a fight, both tumble into the Reichenbach Falls, never to be seen again.
Doyle meant for "The Final Solution" to be the last Sherlock Holmes adventure. He was getting tired of writing about the character. Fans, though, demanded more, despite the apparent death. Doyle obliged with The Hound of the Baskervilles in 1902. Professor Moriarity returned in The Valley of Fear, published in 1915 as a lead up to the events in "The Final Solution".
Moriarty intrigued fans of Sherlock Holmes. Despite having just the two appearances, Moriarty challenged Holmes on a intellectual level, an equal match for the detective where their final meeting resulted in their demise. Not just a villain, but a foil, a nemesis. One that can be expected to appear in an adaptation of Sherlock Holmes. Even one where the detective is a garden gnome.
When Gnomeo & Juliet was released in 2011, the movie exceeded box office expectations. When a movie does that well, sequels are expected. Since Shakespeare never wrote a Romeo & Juliet: Part II, mostly because the titular characters died in the original play, there's not much to build from there. However, low-hanging puns are easy to build upon, leading to Sherlock Gnomes. Gnomeo & Juliet managed to hit most of the beats of the Shakespearean play, changing only near the end. Could the creative team do the same with Sherlock Gnomes?
Most of the cast of Gnomeo & Juliet returned, the main exception being Jason Stathem as Tybalt. Joining the cast are Johnny Depp as Sherlock Gnomes, Chiewetel Ejiofor as Dr. Watson, Mary J. Blige as Irene, and Jamie Demitriou as Moriarty. Once again, the music of Elton John and Bernie Taupin form the bulk of the soundtrack, with the exception of a piece by Jacques Offenbach. The crew comprised of people from Gnomeo & Juliet who weren't otherwise busy with other projects.
The movie opens with Sherlock Gnomes and Watson foiling the plans of Moriarty to smash some helpless garden gnomes at the museum. Gnomes and Moriarty have been matching wits for some time, with the villain leaving clues to taunt and test the detective. This time, though, it appears that Moriarty himself is smashed.
Elsewhere, Ms Montague and Mr. Capulet move together from 2B and Not 2B Verona Drive in Stratford-upon-Avon to a brownstone on Baker Street in London. The garden gnomes are put out in the small garden. Once alone, they animate once again. Lady Bluebury (Maggie Smith) and Lord Redbrick (Michael Caine) announce they will retire once the new garden is properly set up, with Juliet (Emily Blunt) and Gnomeo (James McAvoy) appointed the new gnome leaders. The scene lets audiences familiar with the first movie catch up on the characters, with Benny (Matt Lucas) having his hat repaired between movies. As the garden work goes on, Juliet is spending less time with Gnomeo. Feeling neglected, he decides to go on an adventure to find the flower that brought him and Juliet together in the first place, the purple Cupid's Arrow Orchid.
Juliet discovers Gnomeo's foolish adventure and goes out to save his butt. She is not impressed; she wants the garden in top shape. As they argue, they hear Benny call for help. When they return to the garden, the rest of the gnomes have disappeared. However, Gnomes and Watson are on the scene. With very little explanation, Gnomes begins searching for clues on the disappearance, ignoring questions from Gnomeo and Juliet. The detectives find Moriarty's calling card and leave, with Juliet and Gnomeo on their heels.
Gnomes may not want meddlesome assistants with him, but he's stuck with the newcomers. The clues lead through London, meeting a variety of ornaments from Chinatown to a toy store where Irene is in charge. All leads to a final encounter with Moriarty, who managed to escape his apparent smashing with just minor, reparable damage, at the Tower Bridge. The final battle sees Sherlock and Moriarty fighting then falling from the Bridge much like the illustration shown at the beginning of the movie.
Sherlock Gnomes takes a few liberties with "The Final Solution", though the movie isn't really an adaptation of the story, just the characters in it. Still, key beats from the story show up, such as Gnomes travelling to various locations to keep a step ahead of Moriarty. Much like Holmes, Sherlock Gnomes is brusque and lacking in social skills. In the literature, Watson acts as the filter between Holmes and the reader. In the movie, Watson fills the same role, not just to the audience but also with the gnomes the two meet. Gnomes is also a master of disguise, much like his progenitor, including disguising himself and Juliet as a squirrel in order to retrieve one of Moriarty's calling card from the cutest Hound of the Baskervilles to be on screen. Being a family film, Sherlock Gnomes elides Holmes' addictions, though as a garden gnome, it'd be hard to show his heroin habit.
The movie borrows an idea from the Robert Downey, Jr. in showing how Sherlock's thought processes work. Instead of slowing down the action, Sherlock Gnomes uses black and white animation, showing how the detective works out problems. The processes aren't that easy to understand, being meant more for comedy than actual problem solving tips. Gnomes also has Holmes' eye for detail and observation, able to tell that Gnomeo and Juliet are having a lovers' quarrel within seconds of meeting them.
With the basic premise of telling an adventure of Sherlock Holmes as a garden gnome, the movie could have taken an easy route of having just a gnome that looks like Holmes solve a mystery set to the music of Elton John and be done with it. Instead, Sherlock Gnomes brings in Holmes as he is in Doyle's stories, intelligent, arrogant, and dismissive, and still highlights what would have been his last adventure if Doyle had his way while turning the character into a ceramic ornament. Gnomeo & Juliet demonstrated that the creative team could keep to the beats of a tragedy while still making a feature for the entire family. Sherlock Gnomes follows in the same footsteps.
---
(This column is posted at www.StevenSavage.com and Steve's Tumblr.  Find out more at my newsletter.)
We're talking how to solve your creative challenges with a Brainstorm book!  Last time I discussed how to record your ideas and track them.
Of course I assume you're actually getting things done during this time by whatever method of productivity you choose. So let's talk what to do to follow up once you get things done.
Signoff
Make sure you have a way to look at one of your projects and say "yeah, that's done at least for now." This way you can confidently say you've completed what you set out to do. This could be something as solid as a published book, or as ephemeral as a website update you know you'll change tomorrow. Learn how to say "this is done."
Defining "Done" means you can complete work. You can evaluate. You can deliver a product. You can relax. "Done" is vitally important to define – so do it as early as possible, including as early as possible when you're maintaining your lists of all these ideas.
When you do decide something is "Done" have your Brainstorm Book handy – that "Done" will probably inspire other ideas.
Plus you get the peace of mind of something being over.
Retrospectives
It's important to have a regular Retrospective – a review of how things have gone. I recommend two times to do them – in fact, I recommend both:
First, do a retrospective after any big project completes.
Second, do one after a period of work. For instance if you plan things out by month, then review every month.
On a Retrospective review the following:
What went well?
What did you have problems with?
What work took more effort to do than expected and what work did you miss?
After this review, you should actually ask what concrete actions will you take in the future to make things run better. This could be doing things you did right more, it could be fixing things, it could be staying aware of issues.
Retrospectives help you understand how you brought ideas to life, and how work went from a scrawl in a Brainstorm Book to being real. They spawn new ideas and help you understand your creative process.
Plus each time, you get better.
Success List
Finally, keep an success list. Every month list out what you achieved that month to move your plans forward. That should include:
Any major achievements and successes in your plans.
Making distinct progress in one of your projects.
The completion of a project.
Anything you're particularly proud of.
Reviewing your successess helps you see the results of your actions, appreciate them – and provides you reminders that you can get these things done. It builds habit of self-reinforcement.
All those ideas in your Brainstorm Book? This is when you see that you can make your dreams real.
You're Not Done Until After You're Done
Always remember that your brilliant ideas aren't done when they finish. You want to take time to figure out how to end them, how to review them, and how to learn. That helps tie together all you did and all you learn and all you do at the end.
It's important to have these kind of closing rituals to know you've ended things correctly. And of course, you'll come up with new things to do or tweak my ideas – good.
Keep learning because even though things are done, creativity doesn't end . . .
– Steve
---