Tag: superheroes
Continuing in the Remaking the Eighties miniseries, a look at an earlly attempt for an original superhero series, Misfits of Science.
Today, superheroes are big. Blockbuster big. Movies, TV series. Tie-in novels. It's impossible to check theatre listings without seeing an ad for a superhero movie. In the Eighties, though, while superhero comics were seeing a resurgence, but the characters really didn't cross over to any other medium beyond animation. There were exceptions; The Incredible Hulk with Bill Bixby and Lou Ferrigno ran 1978 to 1982, with three follow up TV movies from 1988 to 1990 is the main one. DC had sequels to the 1978 Superman film and the spin-off, Supergirl with Helen Slater, and the 1989 Tim Burton helmed Batman with Michael Keaton. The phenomenon of today didn't exist in the Eighties.
However, the success of the Superman sequels was enough to get a studio wondering how to cash in on superhero popularity. Special effects were catching up to the what could be seen in comics, and practical effects could deal with most powers. Misfits of Science debuted October 1985 with a pilot movie and ran for fifteen more episodes before being cancelled for low ratings. The series starred Dean Paul Martin as Dr. Billy Hayes, Kevin Peter Hall as Dr. Elvin "El" Lincoln, Mark Thomas Miller as "Johnny B" Bukowski, Courtney Cox as Gloria Dinallo, and Max Wright as Dick Stetmeyer.
Billy was the leader of the group, despite having no powers. He specialized in "human anomalies" and worked at the Humanidyne Institute. That mean that Billy was looking into creating superhumans, though within the bounds of ethics. His partner at work, El, went one step further and underwent a hormonal treatment to shrink himself. El's goal was to get down to a normal height; he was tired of being asked to play basketball because of his height, never mind that he was not any good at the sport. The problem with the treatment was that it went too far. Instead of regressing El's height, it allowed him to shrink down roughly to the size of a Ken doll, and just him. He had to carry around a spare set of clothes for when he did shrink.
Gloria, Cox's first main role on TV, is a telekinetic who has to see her target in order to affect it. Blindfold her, and she won't be able to affect anything around her /except/ the blindfold, which became a plot point in one episode. Gloria is also troubled teen with a history of delinquency and crime, having a probation officer, Jane Miller (Jennifer Holmes). Johnny B who Gloria has a crush on, is a rock musician who gained electrical powers after being electrocuted on stage.. He is capable of tossing lightning bolts and superspeed. Johnny B also drains all electrical and electronic devices, so he tends to live in isolation in the desert, where he can charge thanks to static electricity. Finally, Stetmeyer is the put upon director of Humanidyne. He's the face of the company and while Humanidyne might have some ethical issues, it is not an evil corporation. Stetmeyer is there for the research, not world domination.
The episodes were all stand-alones, as was typical for the era. The series was an action comedy, with some episodes being parodies. The use of powers did get creative, but some solutions called for a specific abilitiy one of the characters had. Some character's issues were dropped along the way, getting in the way of episode plots. However, the show had potential that was never brought forward
That potential makes Misfits of Science ripe for being remade. Superpowered people are no longer seen as just for children. Marvel/Disney in particular is having great financial success diving into Marvel's characters, even if certain X-titles are off-limits thanks to earlier deals. At the same time, Misfits of Science might not thrive on the main four networks, CBS, NBC, ABC, and FOX. It could work on the CW, where the Arrowverse – Arrow, The Flash, Supergirl, Legends of Tomorrow, Black Lightning, and Batwoman – are thriving or have succeeded. The flip side is that the CW may not have room for a non-DC superhero series, leaving streaming services. There are only so many streaming services a potential viewer can afford, and after paying for Netflix and Disney+, for example, another streaming service may not be affordable.
That said, a potential Misfits of Science can fill a gap. While the Arrowverse does have some lighter series in The Flash and Supergirl, most superhero series tend to be serious. In order to not be seen as childish, the pendulum swings the other way by going a little grittier. This way leads to the Zack Snyder version of the Justice League, dark to the point of needing a flashlight to see the movie. Having a lighter superhero series isn't a bad thing, provided it's well written. The characters in the series have a good base to start from, with motivations and backgrounds that can lead to interesting arcs. Johnny's drawback adds a new twist in the 2020s where we carry around far more electronics than we did in 1984. Any potential viewer will know the feeling of a cell phone running out of battery power at an inopportune time.
The series is set at the origins of superpowered beings, the human anomalies. While the original had Billy and his team get into plots to try to help, the new series could explore the impact of regular people with powers. Johnny B can't walk around downtown without draining every cell phone around him. Gloria is dealing with a mother who has had a mental breakdown; she's also on probation, so needs to keep her nose clean, or at least maintain that appearance. El and Billy, being the researchers, have the reason to stay close with the anomalies they work with, especially after El becomes one. There is room for episodic and season-long plots to combine while still keeping a light touch. Keeping Humanidyne as a neutral company instead of evil will allow for less ethical companies to pop up as rivals, with their own misfits.
Misfits of Science was ahead of its time, foreseeing the superhero boom we're now in but not able to properly exploit it. A remake today can update some of the premises, bring the concepts to a new audience, and be entertaining. The only real issue is finding it a proper home.
Last week's look forward to this year mentioned that superheroes aren't going away. Superhero works may become the new Western because the new genre doesn't carry the historical problems while still providing for morality plays. Right now, though, the success of superhero works is mainly through adaptations of existing characters and titles. Marvel Comics and DC Comics have seen success with the transition of their works to movies and television.
Naturally, the success of superhero movies and TV series are creating a backlash. Part of it is the source – comic books have been considered for children and teenagers, not something an adult would be caught reading, works like Watchmen and Maus notwithstanding. Another part of it are two decades, the Eighties and the Ninties, when original works were more popular than adaptations, unlike the rest of the history of film[http://psychodrivein.com/lost-in-translation-history-of-adaptations-wrapping-up/].
Is it possible to create an original superhero TV series not based on an existing character or setting? There have been attempts in the past. Mutant X lasted three seasons in syndication and ended after the its studio was sold, though the series was originally meant to tie in with Marvel's X-Men until Fox sued. Misfits of Science ran one season in the mid-Eighties. Heroes survived four seasons despite a writer's strike and network interference. The track record isn't great for original superhero works, but the audience didn't exist then like it does now.
Television may be the better medium to attempt an original superhero work. Movie studios are risk adverse and the budget to do a superhero movie well may be too high for an unknown work. No one wants to be responsible for a $150 million superbomb. Television is more competitive today, so risks need to be taken just to get viewers. What might not be popular in theatres could garner attention on the small screen; the admission cost is lower with the biggest investment being time, not money. Television also allows for viewing on the viewer's schedule, thanks to time shifting through DVRs/PVRs and, going old school, VCRs.
They key to succeed with an original superhero work is to embrace the tropes. The colourful costumes, the obvious heroes and villains, the morality, everything found in the comics need to be taken seriously, even if the situation is bizarre. The DC television series have had success because the characters were treated seriously. A man returning home to clean up his city, a teenager whose original mission was over by the time she reached Earth, and a forensics analyst trying to clear his father's name are solid ground to build from, and Arrow, Supergirl, and The Flash all did that successfully.
The next catch, though, is to not be just superheroes. DC's television universe, known as the Arrowverse after the first series to air, and Marvel's cinematic universe aren't just superhero stories. Arrow includes both family and crime drama. Supergirl sees Kara adjusting after getting to Earth too late to raise her cousin while dealing with a demanding boss and helping her adopted sister. Ant-Man is a superhero heist movie. Iron Man is a superhero techno-thriller. Captain America: The First Avenger was a superhero pulp war story while its sequel, Captain America: The Winter Soldier is a superhero political thriller. Even the original movie The Incredibles is a superhero family drama crossed with a spy thriller. Pure superheroics can happen – look at The Avengers and Justice League – but an original work will needs its own spin on superheroes.
Television does long form dramas well. Character development needs time, something that a two hour film just doesn't have. A new superhero character can be introduced, with personality and abilities laid out over the course of a few episodes. Too slow will lose viewers, though, but that's true whatever the genre. The goal is to present a character who is a superhero. Marvel's approach to heroes may work well here; the characters have powers, but they aren't useful in dealing with the more serious problems in their day-to-day life. Peter Parker may have spider-based powers, but they haven't helped him deal with school, job, or family.
The series' world can be introduced to the audience over time. There's no need to go into the history of supers in the first ten minutes of the first episode. Details can be filled in, from a TV in the background mentioning a hero in a different city to a character, main or supporting, making a mention. Building that world, though, needs to be done before the series starts. The world of the new superhero needs to make sense to the viewers, especially when asking them to suspend their disbelief on how physics works in the series. How are supers treated? Will the superhero character needs a secret ID and how will he or she maintain it? Who are the rest of the cast? Even DC's solo heroes on television have an extensive supporting cast backing them.
For film, the big problem is getting everything packed into a two hour time span. An origins film could work, but that often means that everything else will get overshadowered as the character becomes a superhero. Smallville spent ten seasons showing how Clark Kent became Superman; movies don't have that luxury. Audiences will be showing up to see superheroic action, unless the marketing can convey properly what the movie is about. Film also has the potential for a larger budget, allowing for cutting edge special effects, even with the likelihood of an original superhero movie having a lower budget due to risk aversion. It's probably best to get the actual origins – how the character became a superhero – out of the way early but have the repercussions of them last through the film. If the origins are interesting, as seen in Deadpool, Captain America: The First Avenger, and Iron Man, then make them the focus of the movie. The goal is to tell a story that will keep audiences in their seats.
One problem that does occur in comics and is starting to occur with the both Marvel and DC's cinematic universes is continuity lockout, where readers need to be familiar with the entire output of a company to understand what's happening. DC's Arrowverse have had three crossover events where the casts of Arrow, The Flash, Supergirl, and Legends of Tomorrow appear on an episode of each series in an interconnected storyline. If a viewer somehow wasn't aware of the other series, the new characters would be a mystery, even if the episode gave enough detail to allow the view to get through to the end. Continuity lockout can happen even if there is just one series if the show lasts long enough. Supernatural uses a "Previously On" segment to get viewers up to speed with what's needed for the upcoming episode, but even there, a new viewer jumping on in season 10 may not be aware of what happened to Sam and Dean's mother, detailed in season 1.
Superheroes aren't going away any time soon. Adaptations of superhero comics will continue to hit television and movie theatres. There is room for an original superhero work in those media, but it will take effort to make the work successful. Just following on the coattails of the leaders won't draw an audience. The new work, movie or TV series, needs to stand on its own. It'll take work, but it is possible.
(This column is posted at www.StevenSavage.com and Steve's Tumblr.  Find out more at my newsletter.)
And yet another book is out!  In this case it's my Superheroes and Worldbuilding book.  I'm continuing my mini-worldbuilding books with one on Superheroes (and it mostly focuses specifically on heroes – villains may be forthcoming).  So if you're thinking about a setting with capes and heroics, give it a check!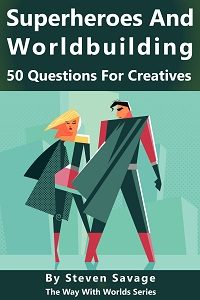 -Steven Savage
As the decades progress with the History of Adaptations, the type of movie that is popular is changing.  Biblical epics gave way to musicals, then biblical remakes, then modern thrillers.  Not seen in the most popular list are Westerns*, despite them being a quarter of Hollywood's output , from feature films to serials to television, plus radio series.  The Western is a very American genre, celebrating the expansion of the US into an unknown frontier.  The original Star Trek was marketed as "Wagon Train to the stars" to get the concept of the show through to executives.  In the 1966-67 television season, when Star Trek first aired, there were eighteen Westerns aired on the three TV networks.  Gunsmoke still holds the record for the longest running television drama, beating Law & Order in number of episodes, and has its roots in radio before airing on TV in 1955.
Westerns lost popularity in the Seventies.  The Vietnam War had American questioning their country and its myths.  Blazing Saddles, released in 1974, took the tropes of Westerns and skewered them with parody, much like how Airplane killed the airplane disaster film popular in the Seventies.  Heaven's Gate, released in 1980 and based loosely on the Johnson County War of 1889-1893, may have been the final nail in the coffin along with ending the New Hollywood era of the auteur director.  Since then, Westerns have been made, but not in the same numbers as before.
Police procedurals took over the niche Westerns had.  There is a similarity between the two genres.  A lawman protecting the community against the black hats that threaten it is a common plot in Westerns.  That same plot is the bread-and-butter of the police procedural.  Dragnet, first appearing on radio in 1949 and television in 1951, set the tropes for the genre.  Jack Webb, the creator of Dragnet, used the same approach with Emergency, a fire department procedural focused on paramedics in Los Angeles.  The police procedural took over the Western's place on television schedules, with series like Hawaii Five-0 in the Seventies, Miami Vice in the Eighties, and the Law & Order franchise through the Nineties to the new millennium.
Today, though, a new mythos has emerged, building on ideas in both Westerns and police procedurals.  The superhero, while around since the age of the pulps and mystery men, has become a dominant force.  Superman has appeared on radio, in live-action television and movies, and in animated series.  Batman has almost kept pace, with no radio show featuring the character but appearing in the Superman radio series.  Between June 2015 and 2020, there are fifty-one planned superhero movies, plus several TV series.  While nowhere near the number of Westerns during that genre's peak, the amount of money being put into developing these fifty-one movies is far beyond what Hollywood invested in oaters.
Superheroes, like Westerns, are uniquely American**.  Unlike Westerns, superheroes aren't based on historical figures, allowing the characters to remain bigger than life without the worry of an indiscretion being discovered by historians.  However, like some Westerns, superheroes are vigilantes keeping communities safe from villains who would otherwise be untouchable.  Batman touches on both the Western and the police procedural, touching on ideas in The Lone Ranger as someone outside the law working to enforce it and being an investigator, as seen in numerous police procedurals and detective stories.  Marvel's The Avengers can be seen as similar to movies like The Seven Samurai and its Hollywood version, The Magnificent Seven, with a number of heroes being brought together to fight off a threat.
While people may believe that the superhero bubble will pop, what needs to be kept in mind is that Westerns, as a genre, lasted decades with higher levels of saturation.  Police procedurals are still around.  While NBC cancelled Law & Order through an ill-advised move, its spin-off, Law & Order: Special Victims Unit, first appearing in 1999, is still on the air.  CBS has its own police procedural franchise in CSI: Crime Scene Investiation, starting in 2000, and still going with CSI: Cyber.  Superhero media outside comics may continue for some time.
The issue that is occurring, as the History of Adaptations project will examine in greater detail, is that superheroes started in a medium considered to be for children.  Comics, despite the strides made in appealing to adults, are still seen as being for kids.  Westerns, while at times family fare, still could be seen by the entire family, again with exceptions.  Police procedurals are definitely aimed at adults, with series aimed at a younger audience tweaked to avoid adult situations.  Supers, though, still have the public image as being something aimed at children and teenagers and, thus, not to be taken seriously.  The same issue exists for Young Adult novels; superheroes, though, are a visual medium and aren't seen as being as literary.
That said, superheroes present a new American mythology, one that is still being created while building on the myths and legends of history.  There is potential within the genre.  Marvel Studios, through its Avengers Initiative series of movies, is showing that supers can be added to any number of genres, from technothriller to space opera, to create something new.  There may be a bubble, but it's not ready to deflate yet.
* With the exception of The Good, the Bad, and the Ugly and Butch Cassidy and the Sundance Kid in the Sixties.
** As uniquely American as possible when half the creators of the first superhero, Superman, was Canadian.  Joe Shuster hailed from Toronto, Ontario, and elements of that city can be seen in Metropolis.