Tag: magic and technology
It's out!  The latest of the Way With Worlds miniguides, this one on Magic and Technology – because for the sake of worldbuilding, they're usually the same!
Each book contains 50 questions on the specific subject, plus a bunch of extras, to help worldbuilders think, ponder, and design.  Think of it as a personal coaching session in a book!  On top of that, each is only 99 cents!
To celebrate, the flagship book, Way With Worlds, is on sale for a week!  It's your chance to pick it up!
So go on, give it a spin – and remember, more are coming . . .
– Steve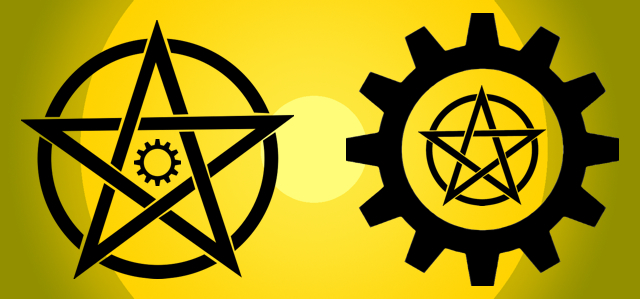 [Way With Worlds appears at Seventh Sanctum and at MuseHack]
Last column, I looked at writing magic and technology for your setting – and noted that in many ways for the sake of world building they could be treated the same.  I still believe that, but I'd be remiss if I didn't call out the differences as well.  Or perhaps  I should say "areas of variance," as it gets complicated, but more on that shortly.
I believe it's important to loo at differences, as in too many cases creating the magic and/or technology for a setting treats them as the same for all the wrong reason – as opposed to the right ones.  Technology easily becomes hand-woven neutron particle miracle rays, a mythology with lab tools and circuit boards.  Magic can get systematized or explained in such a way it either is technology, or is really just magic wearing technologies clothes and wandering around looking out of place.
So, having suggested that you have to look at them as similar for the sake of worldbuilding, I now want to deal with when you have to look at them differently.  Yes, this may produce writing whiplash, but who said worldbuilding was going to be boring and straightforward?  I certainly didn't promise that.
Think of it as general and specifics.  In general, they're the ways people change and affect the world.  In specifics, well . . . (more…)