Tag: film
Since the dawn of television, the medium has been seen as pandering to the lowest common denominator. Film was seen as more prestigious. Today, though, the situation has reversed. While film adaptations are still desired by fans, television may be the better medium, allowing for greater depth. What happened?
In the US, television became dominated by three broadcast networks, ABC, CBS, and NBC. While there were other options, including the public broadcaster PBS, those three networks aired the bulk of TV series. The nature of ratings meant that, on average, a network could expect a third of the viewing audience for any given time slot. To attract a broader audience, the network would need a show with broad appeal, something that attracted families during the early evening and something that brought in adults later in the night. An inexpensive family drama could survive longer than an expensive high-brow science fiction series that needed special effects and dedicated sets. Broadcasters also could let a series find an audience. Even a 20 share meant that the network could sell the show to sponsors.
Film, however, was where the glamour was. Movies had an edge on television just on relative longevity alone. In the Fifties, colour was the norm for film, shown on a large screen. The stars were larger than life, thanks to the Hollywood glam machine. Even as televisions became more affordable, a weekly night out at the movies wasn't a hardship. Studios still had limitations, though. The "voluntary" Hays Code, taking effect in 1930, put limits on what could be shown, leading to writers leaving what happened off-screen to the audience's imagination. Beginning in the late Fifties, with Some Like it Hot, directors and studios started ignoring the Code, or, in the case of foreign film makers, weren't bound by it in the first place. As a result, the MPAA introduced a classification system in 1968 that would let audiences decide for themselves what they were comfortable with.
Early television couldn't compete with film. Television sets were small, with grainy black and white pictures, and very dependent on the strength of the broadcast signal. Movies were backed by studios with a good distribution system, shown on large screens that directors took full use of. Actors used television as a stepping stone towards a career in film. Better televisions were available, and colour became the standard for TV in the Sixties, but film still got the lion's share of attention.
Then came the 500-channel universe. As cable grew, the choices available went from local and nearby broadcast stations to specialty channels available through subscription. Audiences could find a niche they wanted. Advertisers could target their market with more precision. Sports fans had several channels available to them, as did lovers of classic films and science fiction aficionados. With the expanded range available, specialty channels didn't have to worry about the lowest common denominator. Networks, though, took time to learn the lesson. With the expanded competition, though, the quality of even the lowest of the low still had to improve. Add in time-shifting technologies as video cassette recorders and digital recording, viewers no longer had to plan around their favourite shows.
Film ran into new problems. The competition in television meant that there was less time for the weekly movie outing. The economic woes meant that nights out became rarer, especially after the Great Recession of 2007. Coupled with rising ticket and popcorn costs at theatres, who were trying to find ways to stay afloat despite record blockbusters, a movie night became a luxury. Not helping was the ballooning costs of making movies. Comedies were starting to cost as much as special effects laden science fiction movies; The Hangover 3 cost as much to make as Star Wars Episode I: The Phantom Menace. Studios now need films to be popular not just in the US, but also around the world. This need means aiming for the lowest common denominator, one that transcends international borders.
In contrast, televisions main problem is filling all the hours. Stations, broadcast and specialty alike, will still fill time by airing old programming. Sports stations will show classic games of the past; science fiction stations show older series that still have a following, like Star Trek; movie channels will show classic films of yesteryear. The stations will also create new programming as well. The quality may not be great, but even Sharktopus brings in an audience. Budget is a concern, but specialty channels can create TV series that brings in subscribers.
For adaptations, this reversal of roles means that television is the better medium, especially for long form works like novels. HBO's success with A Game of Thrones, based on George RR Martin's A Song of Ice and Fire series, and AMC's similar success with The Walking Dead, based on the graphic novels by Robert Kirkman and Tony Moore, showed that it is possible to create a series that resonates with audiences. Naturally, there were follow-the-leader adaptations, especially in fantasy with MTV adapting Terry Brooks' Shannara series as The Shannara Chronicles. Television allows for greater depth over a season than possible in a two hour film, allowing the adaptation to take the time it needs to present the characters properly.
Film still has its glamour, though. Movies have budgets that television can only dream of. The same budgets, though, mean that most studios aren't going to take huge risks. Deadpool, an R-rated superhero raunchy comedy, would never have been made if the X-Men franchise didn't get past the first movie. With television's lower budgets, a failed pilot isn't as much of a loss as a blockbuster dud, and the expectation of TV pilots is lower.
The reversal of roles between film and television is recent and the root is economic. Adaptations of longer works, including series of novels, television has become the medium of choice. Film's competitive edge has eroded, and television is coming into its own.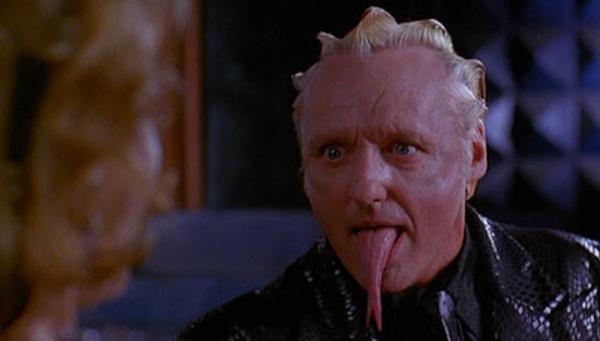 [Normally I do Worldbuilding advice here, but when my friend Scott did an  analysis of Super Mario Brothers films, I wanted to put in my own two cents on why the film was awful.  Because I care.  And because the film was bad.  Previously posted at Muse Hack.]
I did not see the Super Mario Brothers film until Riffftrax released it. I had heard it was terrible. I know some people still remember it fondly, especially for the late and truly great Bob Hoskins' performance, but agree the film wasn't good. So my first encounter with it was with the talented Rifftrax comedians giving their take, which was mainly wall-to-wall sarcasm with intermittent horror at shirtless John Leguzamo.
At the end I could really only say that despite the truly marvelous commentary, this was one of the worst films I've seen. If you know anything about me, you know that is a terrifying statement.
I mean I've watched some seriously bad films without commentary. I'm not sure I could handle this one without sarcastic assistance. I can't imagine the braveness of my friend Scott who viewed it raw for his analysis.
But this got me thinking – why was my reaction so visceral? What was going on in my head? Why would I rather watch, say "Plan 9" (which is bad, but there's much worse) than this?
So, oddly, inspired by this debacle of a film, I began asking why it was so bad, and what I found surprised me.
Let's go ask: what makes a film bad? (more…)
Cracked looks at movies being remade.
The article is a month old, but the list has Point Break, Day of the Dead, League of Extraordinary Gentlemen, and two separate Jungle Book adaptations. Point Break will remove the surfing element, replacing it with extreme sport, thus making the title an artifact. League is being developed as a TV series, which may fit the original comic better. Yes, that will make League a remake of an adaptation.
Another adaptation coming: The Exorcist.
The Exorcist, originally a book but adapted as a movie where it is better known, may be returning as a TV series. The idea is still being shopped around, but networks and cable stations are at least intrigued.
Five hundred new fairytales discovered.
Disney now has even more stories to animate. The tales were found in a German archive. Franz von Schönwerth collected the tales in Bavaria around the same time the Brothers Grimm were. One of the formerly lost tales, "The Turnip Princess" is now online at the Guardian's site.
Steven Spielberg negotiating rights for The Grapes of Wrath.
The Steinbeck novel turns 75 next year and many producers and directors are trying to get the rights to film it. The book was adapted once before, by John Ford in 1939.
The Hollywood Meltdown continues. Spike Lee talks with John Berman on CNN on why originals aren't being made and the future of movie making.
The big issue is that Hollywood studios now need the international market to turn a profit on big budget blockbusters. In China, audiences don't go out to original movies but will flock to characters they already know. Thus, major comic book movies (except R.I.P.D.) and sequels do better there than unknown characters. Lee is also turning to Kickstarter to fund his next movie, seeing crowdsourcing as not that much different as raising money for his first joints, except he doesn't have to lick as many stamps this time.
The question the studios have to consider is, "Is this movie worth the money being spent on it?" If The Hangover III cost US$103 million while The Phantom Menance cost US$115 million, there's something wrong. (For comparison, the first Hangover only cost US$35 million to make and performed better in theatres compared to the third movie in the trilogy.)
Spielberg, who has noted the oncoming implosion, is predicting that it may cost more to see movies like Iron Man than to see Lincoln after the meltdown, with filmmakers Lee and George Lucas agreeing.
Next week, Blade Runner