Tag: fanime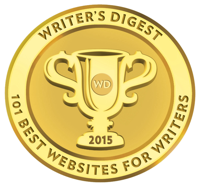 Hey all, hope you're doing good.  So what's up with the Sanctum?
Well first, you'll notice the badge there in the sidebar – the Sanctum was declared one of the 101 most useful sites for writers by Writer's Digest!  Glad to know the site's so helpful – and be sure to check out the other resources in the latest issue!
Next up, generators.  Though I've got a few ideas (because they never stop) I want to take a hard look at the idea of a Plot Twist generator this summer.  However my issue right now is what form it should take.  Genre based?  Abstract?  Wild?  Bounded?  What kind of options?  Or in short . . . suggestions welcome.
I may do a poll once I get some kind of idea in mind.
I got back from Fanime, which of course was awesome.  I did some career speaking there and hope to do more events next year.
Way With Worlds will indeed be wrapping up soon – then I start editing it into a book.  That probably means I'll get a few more column ideas, but there probably won't be anything regular.
I may start doing other creative posts here, let's see where my mojo takes me . . .

http://www.fanime.com/