Tag: creative paths
And hello again gang, I want to let you know I'm looking for reviewers for my first book on Creativity, "The Power Of Creative Paths."  It comes out late January/early February, but I want to line up people who want to review it (don't worry, it's an eBook and it's a reasonable size) and review it honestly.  If you're interested contact me right away!
-Steve
What's next up for me? Well working on all my OTHER books I am doing a book called "The Power Of Creative Paths" which I used to call "The Creativity Book."  It's my first "Sanctum Branded" book – IE one about my creative theories.  I gotta put a "book" section in here at some point.
It's now at the editor AND we have a beta cover: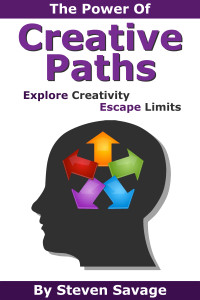 So this should be out at the end of January – it's a $2.99 ebook, a bit under 100 pages, and hardcore focused on identifying your creative path, helping you expand your options as a creator, and understand how people on different "paths" can get along – or fail to get along.  It's the first book to really boil down my creative theories learned from Seventh Sanctum.
I'm actually sort of glad to get it out of my head – I've kicked these ideas around awhile, but I really wanted to write something on general creativity to help people out and leverage what I've seen.  It's a pretty good creative model, and I think you'll like it.
Also if you want to be a reviewer . . .
– Steven Savage
So I've not talked about this much here, but now it deserves it's own post – because my first Seventh Sanctum inspired book is coming up – and it's not Way With Worlds (which is going to editor in a bit, more later).
It's called "The Power Of Creative Paths," and it's a book on how people come up with Big Ideas – specifically, the five different ways that they do it.
Working on Generators, talking to people, I tried to formulate a way to understand how people created – and came up with a theory that there's five basic creative types – Creative Paths as I call them.  Like any path, people "travel" it to get somewhere and find something – a Big Idea.  The thing is we're often on different paths than others and don't know it – or don't realize they're stuck on one path and would do well to try others or they aren't working well with others.  Sometimes both.
So the book focuses on knowing which Path you're usually on, practicing getting onto others, and figuring out how to work best with people based on your current or preferred path.  Of course it contains plenty of exercises and hands-on stuff to do, so you can really get to trying out the different Paths!
It's at the editors, so it should get back to me soon!
It should be out sometime late January if all goes well, and I'll actually start a Book section on the site – because Way With Worlds is coming up . .  .