Tag: book
(This column is posted at www.StevenSavage.com and Steve's Tumblr.  Find out more at my newsletter.)
And yet another book is out!  In this case it's my Superheroes and Worldbuilding book.  I'm continuing my mini-worldbuilding books with one on Superheroes (and it mostly focuses specifically on heroes – villains may be forthcoming).  So if you're thinking about a setting with capes and heroics, give it a check!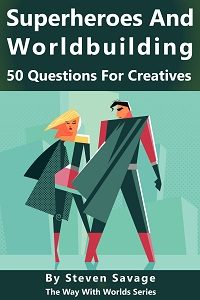 -Steven Savage
(This column is posted at www.StevenSavage.com and Steve's Tumblr.  Find out more at my newsletter.)
OK I've hinted at it or talked about it but it's here – my book on Agile Creativity!
This is the result of experimentation, research, discussions, and blogging – a guide to how to use Agile in creative efforts. However this isn't about specific methods – this is about mindset.
Do you really understand value?  How can you get more done by doing less?  Are you supporting yourself so things happen – not trying to force them to happen?
I dive into the Agile Software Manifesto and the Principles behind it – and then focus on how to take these ideas and use them for art, writing, and more!  Let's get Agile, get Creative – and get more done with less stress!
-Steven Savage
It's out!  The latest of the Way With Worlds miniguides, this one on Magic and Technology – because for the sake of worldbuilding, they're usually the same!
Each book contains 50 questions on the specific subject, plus a bunch of extras, to help worldbuilders think, ponder, and design.  Think of it as a personal coaching session in a book!  On top of that, each is only 99 cents!
To celebrate, the flagship book, Way With Worlds, is on sale for a week!  It's your chance to pick it up!
So go on, give it a spin – and remember, more are coming . . .
– Steve
Yes I've got my first Way With Worlds Minibook out! This one is on sex and worldbuilding, where we explore the biology and sociology vital to a believable setting – and so often forgotten!
I'm going to be doing a series of these, each 99 cents, over the next few months.  The idea is to do something parallel to my larger books, and focus on intense coaching on specific subjects – but without giving you something overwhelming.  Each book can be read in a few hours and you can get back to writing!
(This column is posted at www.StevenSavage.com, www.SeventhSanctum.com, and Steve's Tumblr)

It's here!  The second book in the Way With Worlds series – in both Print and Kindle! Go get it now!

To celebrate, here's what I'm doing this weekend!

So now you've got two books on worldbuilding to help you out.  Spread the word!

But there's more coming!  I'm working on a series of smaller, more focused, more personal worldbuilding books – small, 99-cent ebooks to help you focus on specific subjects in more of a coaching manner.  Those will start coming out this summer, so stay tuned!

Meanwhile, keep writing, keep gaming, and keep creating new worlds!

– Steve
(This column is posted at www.StevenSavage.com, www.SeventhSanctum.com, and Steve's Tumblr)
After plenty of interruptions, Way With Worlds Book 2 is ready for pre-readers!  So go on, get a preview, get a chance for feedback and contact me!
This one is a shift from the first book.  The first book focused on a roughly linear set of advice on worldbuilding across various subjects.  THis one is a series of collected deep dives on various issues, arranged a bit more freeform from the specific to the general.  It covers conflicts, viewpoints, worldbuilding tools, and team effort – among other diverse subjects.  It's definitely a companion book to #1.
So give me a write, let me know if you want a PDF copy and let's see what you think!
– Steve
And with NaNoWriMo now kicking into gear, I've got another sale to help out my fellow creatives!
WThe Way With Worlds 1 ebook is on sale until November 7th!  It's a chance to get a little boost in your work and think over the world's you're building!
Like I said I'm not doing NaNo this year, so it's my contribution.  Still, let's see about next year . . .
– Steve
I may not have time to participate in NaNoWriMo this year (I am writing, but not up for the challenge), but I figure I can make this contribution – my book "The Power Of Creative Paths" is on sale for this week!  Hope that makes everyone's life a bit easier.
Hope it helps out.  Maybe I'll participate next year.
To be honest, I sort of am envious people can participate.  I usually have my book plans set out months or even a year in advance so I'd have to plan that.  On top of it, NaNoWriMo seems more FUN when it's fiction.
. . . or I could make a generator next NaNoWriMo.  Hmmmm.
– Steve
Well it's not generator related, but it is creativity related, and ties into Scott's considerable work – my first pop-culture book, co-authored with my good friend Bonnie, is out!
It's called Her Eternal Moonlight, and is a look at female Sailor Moon fandom in North America.  It was pretty interesting to study this; interviewing people, finding common patterns, then communicating it as a book.  It definitely gave me a lot of insights.
It's also getting reviews here and there, and we're also discussing it on podcasts:
Now with that done, maybe it's time to get to some generators and creative writing – but there is going to be another study coming up starting next year . . .
– Steve
Way With Worlds Book 1 is out. Go get it in print or kindle. Or both if you want.
If you're new to the book, it's a giant guide to worldbuilding, from philosophy of setting creation, to sex, to ecology, and more.  There's advice, exercises, several lame jokes, and some insights that should give you a different view on creating your settings.  It's designed to be a manual for the important points of making a setting.
After some sixteen years, this is the next stage in my efforts to bring this old work to life!  First rewrites, now books.  It's fantastic to see this journey turn into something physical people can hold in their hands!
Certainly it's not done yet – there's one more book to drop in November/December (probably December). There's some smaller followup work. But this marks that transition to the new formats.
My mind still goes back to, when in the midst of the rewrites, someone told me how they'd printed my old columns out when they were younger. It had mattered to them that much, and they remembered it that well. That turned my efforts into more of a mission.
Mission isn't over yet. Book two drops in November/December (probably December honestly). There's some followup works I want to do.
But today I can note the next stage of Way With Worlds has started, and it has printed pages and the smell of paper, highlighted with fond memories.
So go on, take a look. There's thoughts on sex and religion, characters and ecology, and of course plenty of philosophy. In this age, where anyone can put out book or a comic, good worldbuilding is needed more than ever – and is where you can stand out.
– Steve
(This column is posted at www.StevenSavage.com, www.SeventhSanctum.com, and Steve's Tumblr)